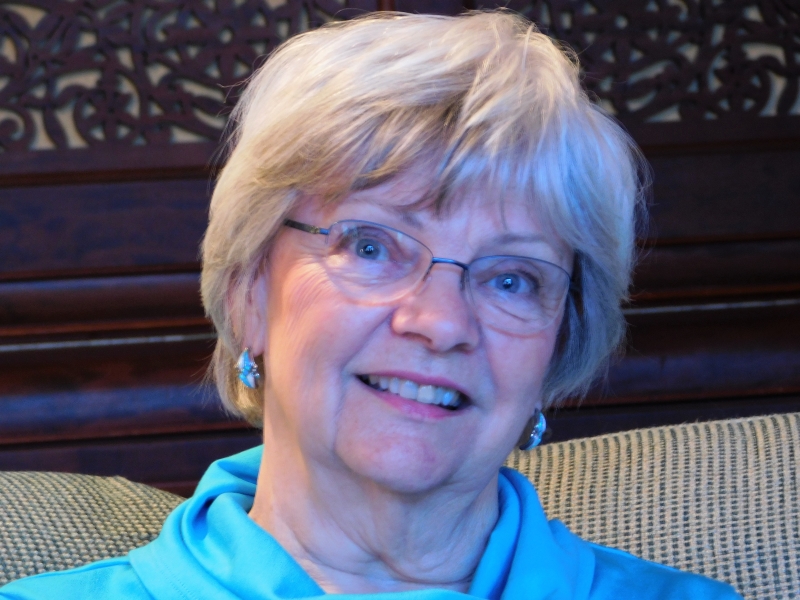 I am a Baltimore gal, born and bred. At one time I counted 130 relatives also living in and around Baltimore. I attended Eastern High School when it functioned like a private girls' school, and graduated from Towson State Teachers College (now Towson University) with a degree in Art/Education. John and I have been married for fifty-five years and most of that time have worked as full-time staff for the Navigators, an international Christian organization that seeks to cultivate and encourage disciples of Jesus Christ. We lived in Holland and in the Philippines before we came to settle in Maryland. As veteran Navigators, we are part of the Nav Encore Mission, using our gifting and experience in relationships in our church and neighborhood. Our three married children have given us seventeen grandchildren. Oliver, our first great-grandchild, was born last year to our grandson Thomas Shields and his wife, Beth.
John and I live on a high hill on northern Baltimore County that we have named Blessing Hill. You can read all about it in my latest book, Keeping Blessing Hill, published by Morgan James Publishers and available now for pre-order on Amazon and in bookstores nationwide in late September, 2018.
My days are filled with keeping house, gardening, writing and shopping for birthday presents for all the grandkids. Evenings and weekends, John and I watch ball games and old movies on TV, or just read in companionable silence in our favorite room, the Great Room, that looks out over our gardens and the rolling tree-covered hills to the north. Occasionally I speak at conferences and women's retreats on topics like, "Contentment" or "Growing Strong in the Seasons of Life" or, "Rooted in God's Love"' or, "Meet Me in the Garden".
I've kept a diary of my spiritual journey for many years. As we began to design and create the gardens on Blessing Hill, I also began journaling about what I was seeing and learning in the garden. From these two journals was born my first book, In God's Garden, published by Tyndale House in 1998. I also wrote a devotional calendar for Tyndale that same year. Both are out of print but you can still find some nice copies of the book at Amazon.com. In 2005, NavPress published Goodbye, Jeanine, a memoir of my faith journey after our daughter's suicide. You can buy copies of this book from me. See my 'contact' page.
♥♥♥